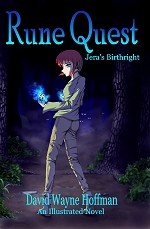 Read the first chapter of Jera's Birthright!
Buy Rune Quest: Jera's Birthright at Lulu.com.
Softcover
$14.95
Hardcover
$24.95
Tomorrow is a big day for Jera. She turns sixteen and will receive, in a magical and mystical ritual, the power to command one of the four elements. But what Jera, nor anyone else, knows is that this midsummer's day will unleash more than the promise of an elemental power. For a centuries old prophecy will be fulfilled and a new era of pain and suffering will be unleashed upon the world.
A quest is placed upon Jera; a task to find and recover the original set of runes crafted by Odin himself. But as this journey begins so does an unknown ancient enemy erupt into the lands of ancient Earth, an enemy intent on destroying everything and everyone that inhabit the magical realms of the Northern Kingdoms. And as she journeys through a dying world the prophecy remains clouded and new mysteries are revealed. Jera must find her way through a conflict that goes far beyond the mortal realm.
---
When I stared Jera's Birthright I already had planned for it to be a trilogy and looked forward to crafting the myriad of characters needed to tell this tale. But don't think this is your run of the mill fantasy, for the trial and loss that Jera faces would challenge even the bravest of heroes.