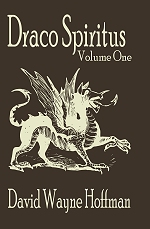 Read a preview of Draco Spiritus: Volume One.
Buy Draco Spiritus: Volume One at Lulu.com.
Softcover
$7.85
"the collection touches upon a wide variety of speculative plots with originality and style"
Draco Spiritus: Volume One is a gathering of short stories and poems written by David Wayne Hoffman over the past decade. The poems contained inside spark from his personal experiences, feelings, and desires. Several short stories are also to be found inside (some written specifically for this book) and these include:
Draco Orbus ~ Specifically written for this collection Draco Orbus follows a mother dragon and her current offspring Da'al as they fight to survive in a world that no longer favors their kind. But Da'al soon discovers that their fate is not carved into the stone of history and that the survival of the southern dragons may yet find salvation.
Hellfire ~ This science fiction short finds Kristy, the leader of a band of survivors, seeking salvation for her people. But the invaders from another dimension have other plans…
The Last Prayer ~ What happens after death? Follow this family of four as they search for salvation in a realm unknown to the living.
Xympthtaw ~ A pagan tale that starts with the wounded hawk Xympthtaw hiding in a bush with his only aim to survive long enough to heal. However, fate has other plans for the wounded guardian of the sky.
Draco Spiritus: Volume One also includes twelve poems, one of which is from the The Summerstone Legacy.